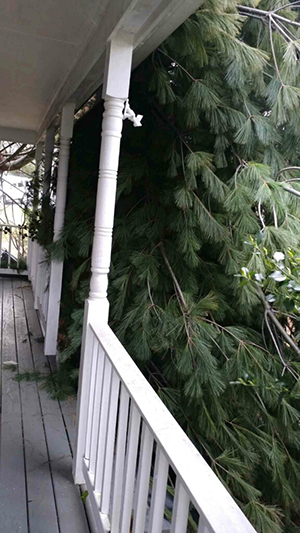 IN A PERFECT WORLD, you don't need a property manager. In a perfect world, the tenant pays rent on-time (or early), doesn't want to break the lease, takes good care of the home, and doesn't have unauthorized pets or occupants in the home. …. In a perfect world, appliances don't break down, HVAC systems don't stop heating and cooling, basements don't get flooded, sewage systems don't back up, roofs don't leak, faucets don't leak, and trees don't get blown down.

But of course, it isn't a perfect world. For instance, yesterday, was not a perfect day!

Our area suffered a major windstorm with wind speeds up to 60-70 MPH. Several of our tenants reported trees blown down blocking roads or landing on roofs and fences. In severe weather circumstances, many major tree companies are contracted to work for VDOT or the power companies to prioritize restoring power and removing trees and debris from roadways. Fortunately, we have an excellent working relationship with a local tree company that allowed us to have the fallen trees removed within hours of tenant reports.
At least 20 of our tenants have already reported shingles, siding, and shutters being blown off of their homes. Due to the volume of damages, most local homeowners will have to wait weeks for a roofing contractor to inspect their homes. Fortunately, we have an excellent working relationship with a roofing and siding company who will be inspecting our damaged properties over the next 3 days.
We wish it were a perfect world, but since its not, we are here if you need us!!