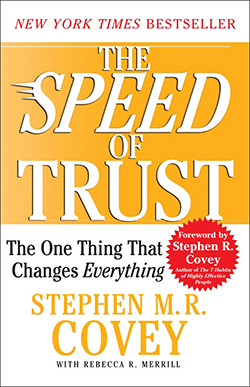 Steven M. R. Covey published a book entitled "The Speed of Trust" which explains how trust—and the speed at which it is established with clients, employees and constituents—is the essential ingredient for any high–performance, successful organization.

When I read this book, I understood that it was imperative for our company to establish trust with our landlords at the very beginning of our business relationship.

Since most of our landlords plan to sell their rental properties once the market reaches a break-even or profitable level, our property management relationships typically last 4-6 years. During most of that time frame, our direct interaction with landlords will be minimal. We will collect rents, react to minor maintenance concerns, renew leases, or procure new tenants. Rarely, but possibly, we may need to contact a landlord in the midst of an emergency situation that requires a prompt decision and/or a significant and unexpected expense.
For instance, if a gas hot water heater leaks on a Friday night, a decision needs to be made whether to replace it immediately to allow tenants to have hot water over the weekend. Or if it is nearly 100 degrees on a hot August day and th...